Secrets of Lisbon
The days when Lisbon was an unknown destination are long gone, the city has now become one of Europe's most-visited destinations and it might seem as if each corner has already been explored. Social media makes visiting even easier, providing tourists with lots of insider tips, and now many of the city's coolest spots are out in the open. A few locations and activities, however, remain largely off tourists' radars. Here is a breakdown of some of the spots that are still something of a secret from most visitors and still carry the authentic vibe of this amazing city!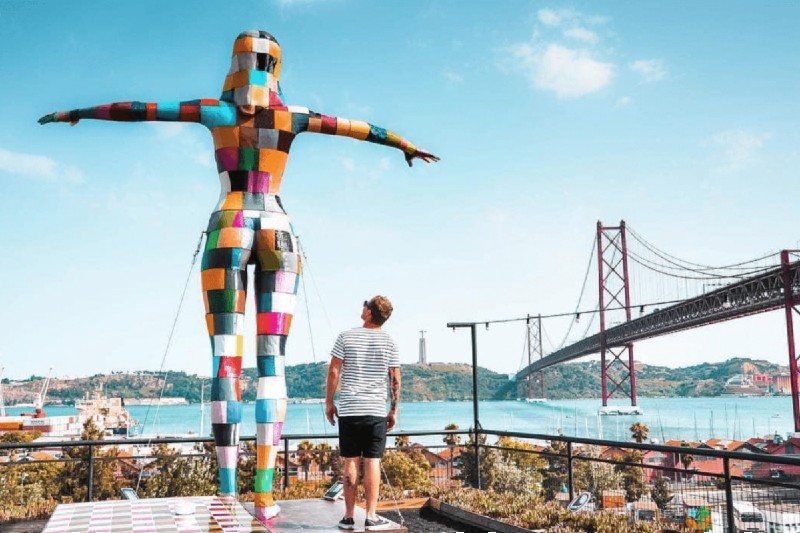 Have A Drink At Adamastor Viewpoint
Santa Catarina's Viewpoint, is best known by the locals as "Adamastor" viewpoint (a mythical giant inspired by Greco-Roman mythology, referred to by Luís de Camões in the famous book "Os Lusíadas".
This viewpoint has a nice Kiosk where you and your group can relax for an afternoon drink, while enjoying the beautiful sunset over the city, Tagus River, 25th April Bridge, and far away blessing Lisbon, the also iconic Cristo Rei Statue.
Local Tip: In the area around this viewpoint you will find many authentic and traditional restaurants. It is also next to Bairro Alto, one of the most famous night-out areas in Lisbon.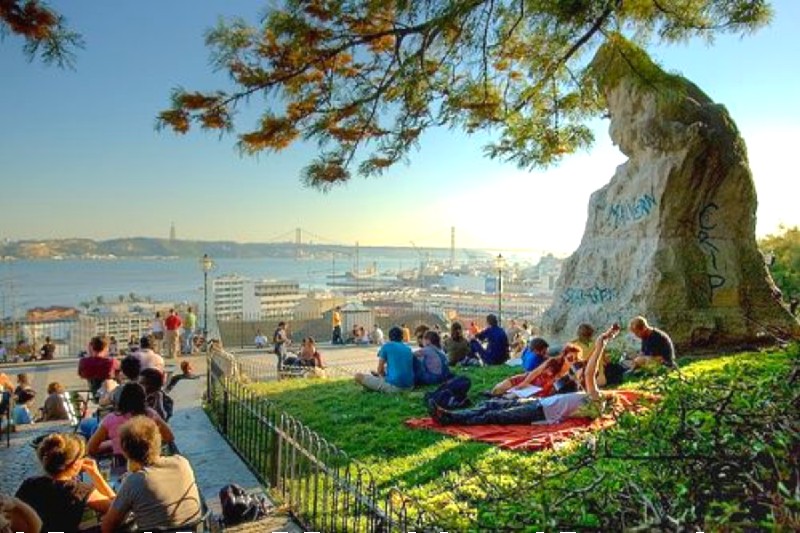 Try A Ginja And Get Into The Portuguese Vibe
If you are walking around Praça do Rossio, in Lisbon, you may find a group of people waiting at a corner in front of a little storefront, and you may wonder what they are doing. The answer is simple: they are waiting to get a "Ginja"- a Portuguese liqueur made by infusing ginjas (sour cherries, Morello cherry) in aguardente (distilled spirit) with sugar and some other ingredients – and is considered the unofficial drink of Lisbon!
This is a true Portuguese habit, which will help you get into the Portuguese spirit, and ensure you have an authentic experience when visiting this amazing city.
Local Tip: The best and most authentic Ginja can be found at the tiny storefront "A Ginginha" at Largo São Domingos 8, right next to Rossio Square.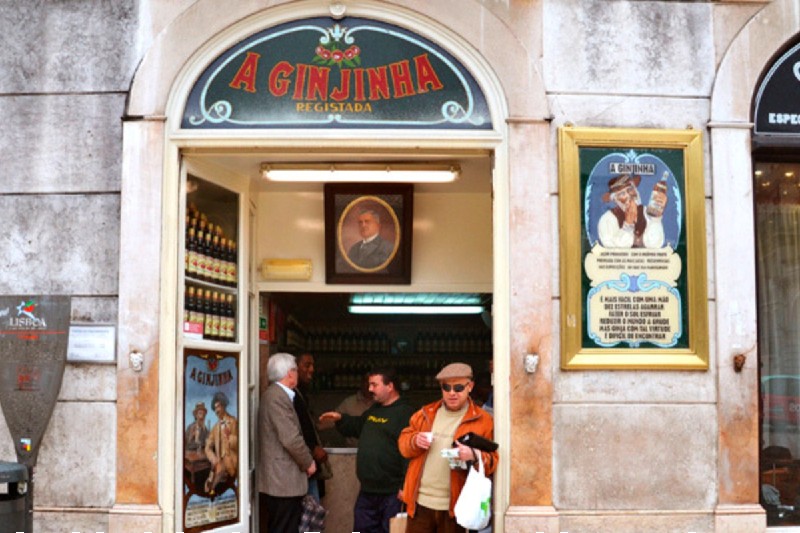 Buy A Gift At A Vida Portuguesa Store
Visiting A Vida Portuguesa Store is like returning to the past. It opened its first store in June 2007 in the heart of the Chiado neighborhood, occupying the centennial and extraordinary space of an old perfume factory, but keeping the beautiful cabinets and jars of powder left behind, fully preserving its rich history.
There you will find unique everyday products, rescued from the memory of the country; the most beautiful and careful selections of: jewelry, embroidery, ceramics, aluminum, toiletries, stationery, books, toys, plus a wide range of cleaning products, food and drink.
Local Tip: If you don't want to bother carrying back to your countries the gifts for your friends and family, you can also buy them online. Know more about Vida Portuguesa or visit the online store at their official website.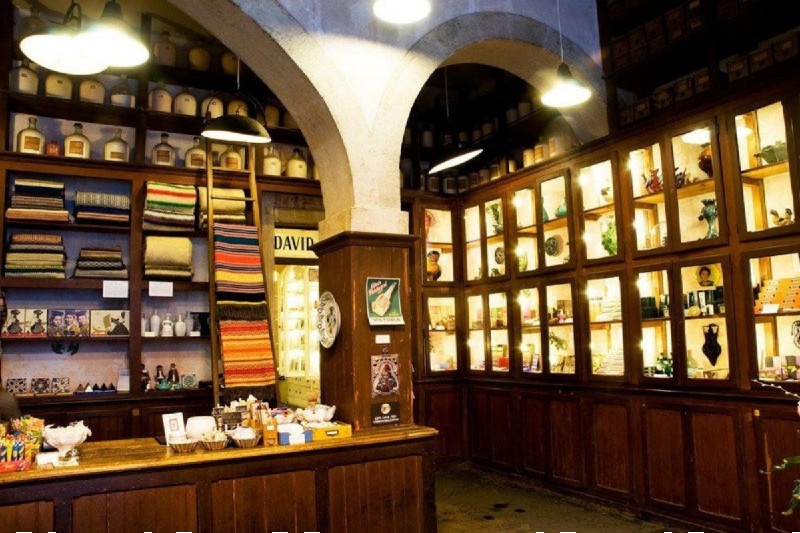 Delight With The Chef At Home Experience
Get a break from all the crowded restaurants and tourist traps. Enjoy an amazing traditional meal cooked by someone who has the experience of a lifetime in the kitchen, from the comfort of your apartment!
This experience also has a social side, as this service is provided by 55+ a local social institution that values people over 55 years old, giving them the opportunity to be active and fulfilled!!
This institution has the real experts of the typical Portuguese home-cooked food. You get to enjoy a complete meal (Starter, Main course, Wine, Bread and Desert) without leaving the comfort of your home. This is a different and fun experience that you and your friends or family will love! It also as the bonus that you will be helping the local community!!
To book this service please contact 55+ directly using the following email: info@55mais.pt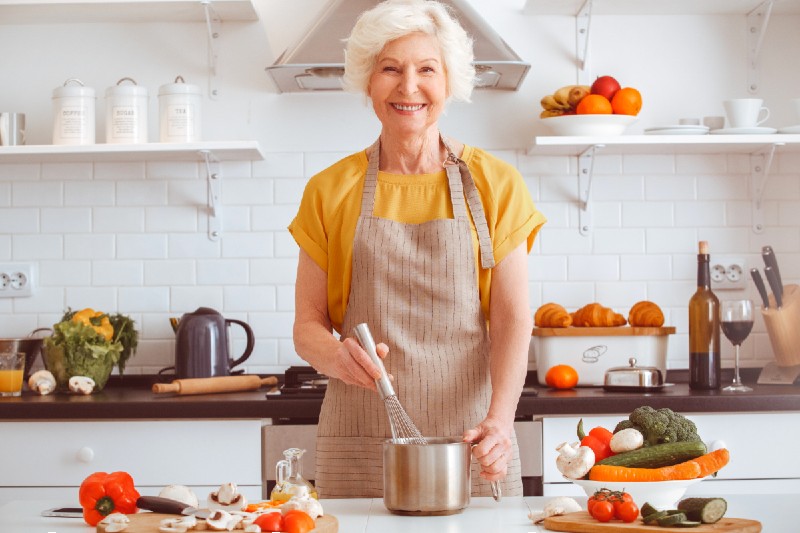 See Lisbon From The Other Side Of The River
If you want to get away from the crowds and enjoy a great afternoon and dinner you have to visit the south bank of the Tagus river.
Start by taking the 20min ferry from Cais Sodré Station to Cacilhas (ferry timetable). From there, take a taxi to the famous Cristo Rei Statue, where you can go up the elevator and enjoy a stunning view over Lisbon and its surroundings.
From there, walk down to the panoramic elevator of Boca do Vento. Take the elevator down to the riverfront where you will have a nice garden and to the right you will find the idyllic riverfront restaurant/bar "Ponto Final" where you can enjoy a fantastic traditional meal and the best seafood, while enjoying the sunset and the stunning view over Lisbon – worthy of a movie set!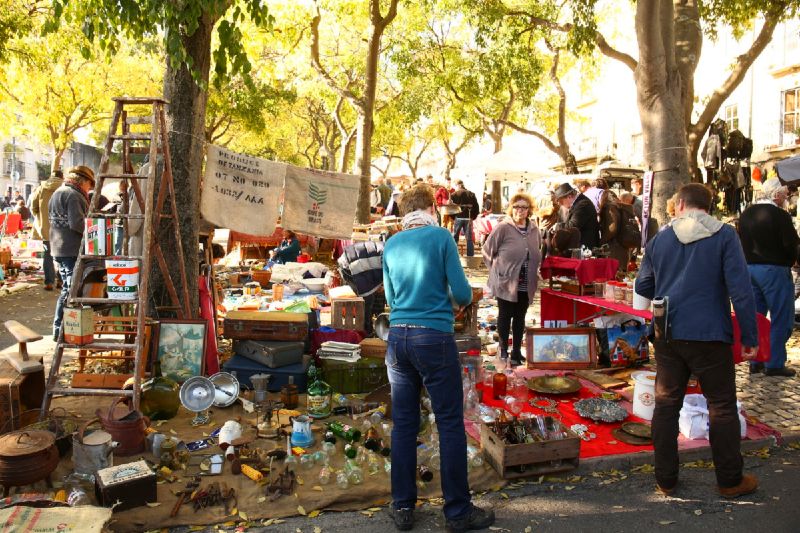 Visit The Secret Underground Roman Galleries
Unknown to even many of the locals, an amazing secret is kept hidden under Lisbon downtown area - the Underground Roman Galleries.
In the middle of downtown Lisbon, and only opened twice a year for a few days, visitors will find a net of ancient Roman underground tunnels that go across the downtown area and are believed to date back to the first century.
This is a different and fun experience for the more adventurous, which you won't find in other Lisbon Guides. Though the tunnels are safe and not very long (a walk-through takes about 20 minutes), we only recommend this activity for people who are not afraid of dark or narrow places.
Local Tip: Contact the Lisbon Tourism Office for tour dates and times, as the tunnels are not always open to the public.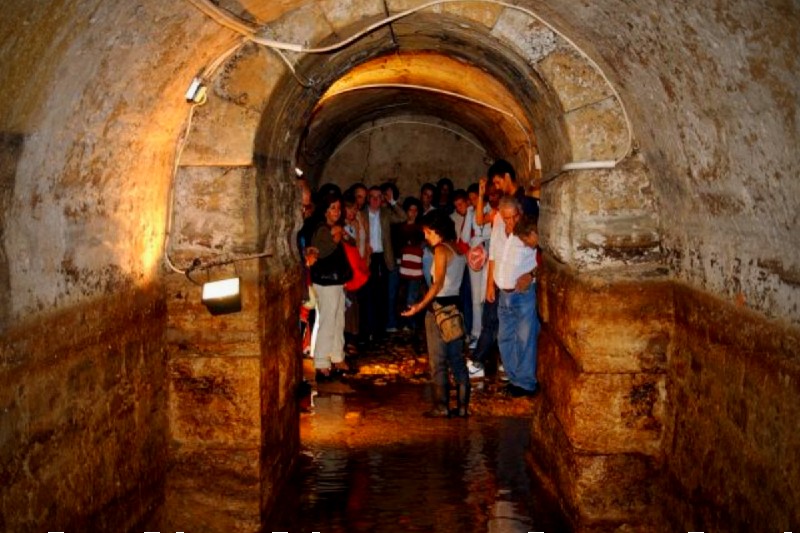 Explore Lisbon's "Thieves" Market
Right next to the National Pantheon, in the Alfama district of Lisbon, Lisbon's famous "Thieves" Market (Feira da Ladra) takes place twice a week. It's a flea market held every Tuesday and Saturday from dawn to dusk.
This old market was first mentioned in the 17th century though it most likely pre-dates this period. If you are keen on buying vintage items, make sure you go there early, because, like all flea markets, all the good stuff is sold first! You will find mostly locals wandering around this market, so if you are looking for an authentic local experience you should definitely visit this place!
Local Tip: Don't be afraid to negotiate the price. It's part of the game and if you don't, you'll pay far too much!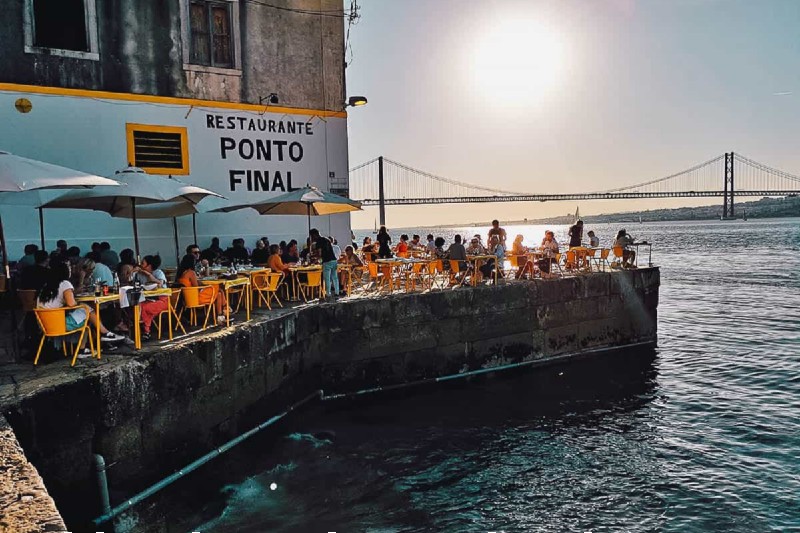 See Lisbon's Best Street Art
Lisbon is an open-air gallery, not just for its beautiful tile-covered façades and the traditional cobblestone designs, but also for its amazing street art.
The Portuguese capital is now known as one of the cities with the best street art, and some local artists like Vhils and Bordalo II have become true international icons, with pieces of art all over the world. Vhils is known for carving faces on façades, while Bordalo II creates art from trash.
Check the image gallery on the right to see some of the most famous and impressive street art you will find in Lisbon!
Local Tip: Many tour operators have and tuk-tuks also started to offer Lisbon Street Art Tours, so if you ask around you will find one that will guide you through the best and most famous places.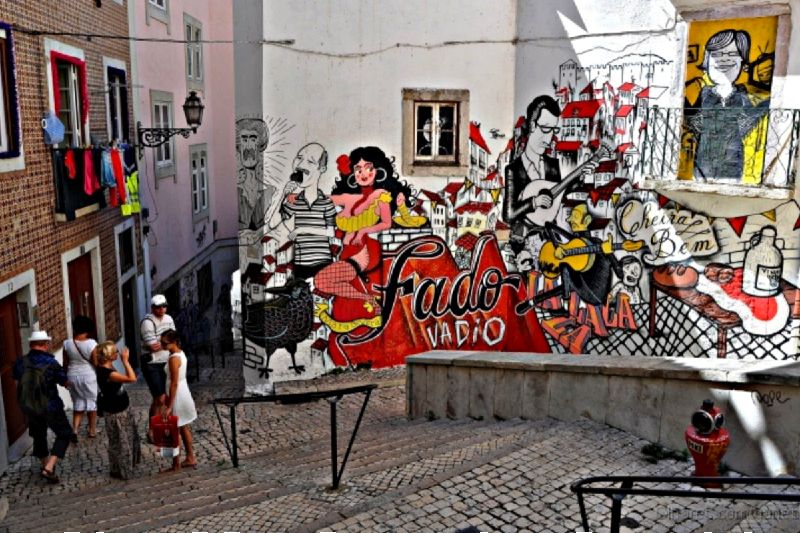 Find The Oldest House In Lisbon
Located in Alfama's district, you will find what is considered by most as the oldest house in Lisbon. This tiny funny looking house is one of the few buildings that survived the famous 1755 Lisbon earthquake that violently hit the city, and even caused a tsunami which destroyed the rest of the houses that had survived the earthquake. Estimates place the death toll in Lisbon alone at between 30,000 and 50,000 people, making it one of the deadliest earthquakes in history.
Whenever you see a house/building in Lisbon where the top floors are slightly larger than the ones below, that means that they were built before the 1755 earthquake. They were meant to give more space inside, leaving the narrow streets walkable.
You can find this precious gem of Lisbon's history at Rua do Cego 20.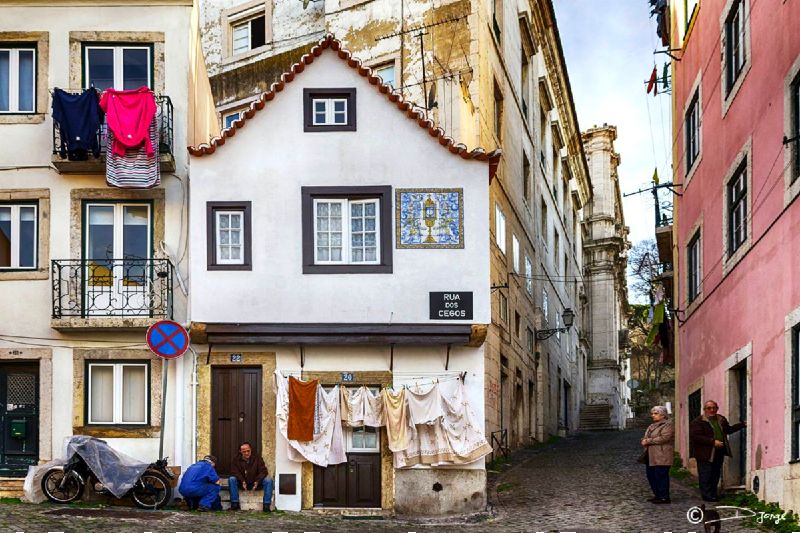 Take In The Scenery Of The Panoramic Of Monsanto
Lisbon's beloved secret viewpoint is a graffiti- and art-plastered building that was once an exclusive high-society restaurant in the late 1960s. A series of bad investment decisions led to its abandonment from 2001 – although, considering the graffiti covering the walls top to bottom, it wasn't left unvisited.
While the surviving tile panels on the ground floor are worth the visit, it's the astonishing panoramic view from the 3rd floor that amazes people. Lisbon – especially Aqueduto das Águas Livres – looks astonishing.
Since it was recently reopened, it became a trendy place for all urban art lovers, and is considered by many as one of the most instagrammable places in Lisbon!!
Local Tip: To get here, take bus 711 from Rossio and walk the final 650m.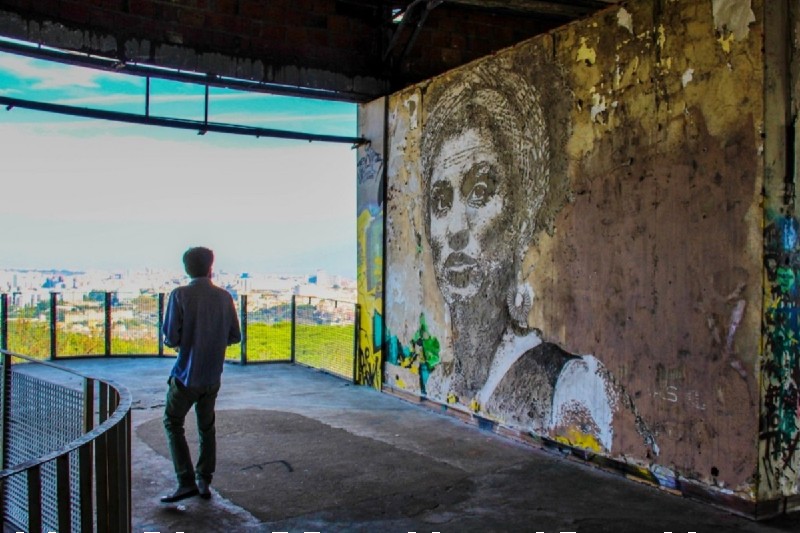 Visit The "Aqueduto Das Àguas Livres"
One of the most iconic images of Lisbon, the Aqueduto das Àguas Livres (Free Waters Aqueduct) is a huge and impressive aqueduct which provided the whole city with fresh drinking water when it was built in 1744.
The most visible part of this magnificent structure is the Alcântara section which crosses the entire valley. It has 21 round and 14 pointed arches, the largest of which is 65 metres high and 29 metres across, making it the world's largest.
Local Tip: Not many people know but it is possible to visit this gentle giant and admire the views for FREE every 1st Sunday of the month. Or you can also book a tour all year round.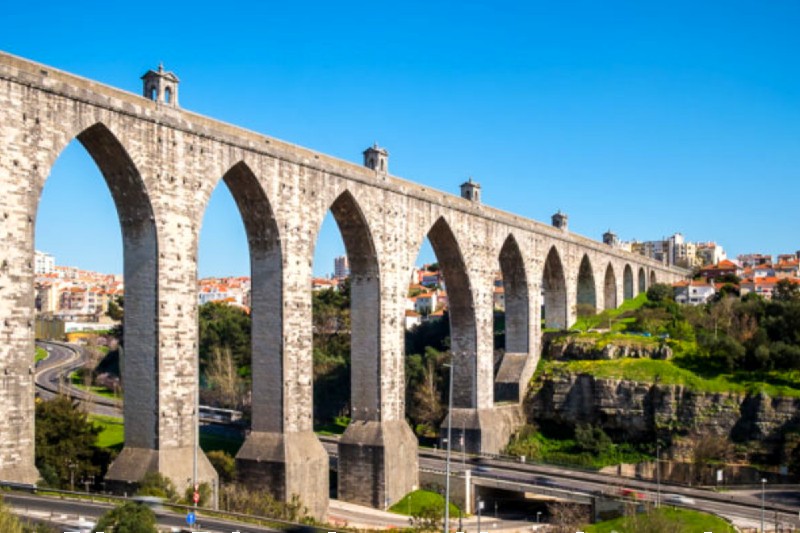 Visit Lisbon's Greenhouse And Tropical Gardens
One of Lisbon's lesser-known but extremely pleasant tourist attractions is Estufa Fria, an horticultural wonderland of tropical plants and flowers hidden away just a few minutes from the famous Marquês de Pombal Square. Its gardens are intricately landscaped with narrow paths winding a peaceful passage amidst flowering shrubs, gigantic palms, exotic plants (over thirty species in all) and rare trees, some of which are well over a century old.
Close to Mosteiro dos Jerónimos Monument, but far from the tourist crowds, you will also find Lisbon's Tropical Garden. This beautiful and peaceful botanical garden, with hundreds of species of tropical plants and small lakes, is a great retreat and relaxing spot on a hot summer day.
Local Tip: You can enter both gardens for free every Sunday and on national holidays.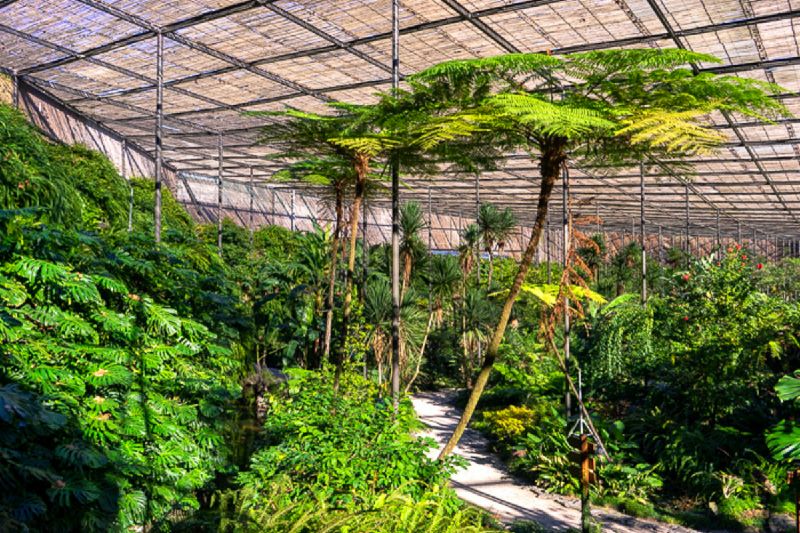 Visit A Muslim-Style Courtyard In Lisbon Downtown
The Moorish-style courtyard of Casa do Alentejo is one of Lisbon's many surprises. The Moorish palace dates from the last quarter of the 17th century, but its current appearance is a result of considerable alterations carried out until 1932, when it was turned into a social club for the people of the Alentejo region, and became the Casa do Alentejo of today. This palace is located in the downtown area of Lisbon and you can enter for FREE.
One of the highlights of this palace is the Moorish-style courtyard, but if you walk inside you will also find impressive rooms decorated in the rococo style of Louis XVI. One of them is the former ballroom, decorated with mirrors, sculptures of allegorical figures, and a large ceiling fresco. The dining rooms are picturesque, with open fireplaces and decorated with beautiful tiles (azulejos). The azulejo is a form of Portuguese painted, tin-glazed, ceramic tilework.
Local Tip: The food is amazing at Casa do Alentejo, with specialties of this region of Portugal.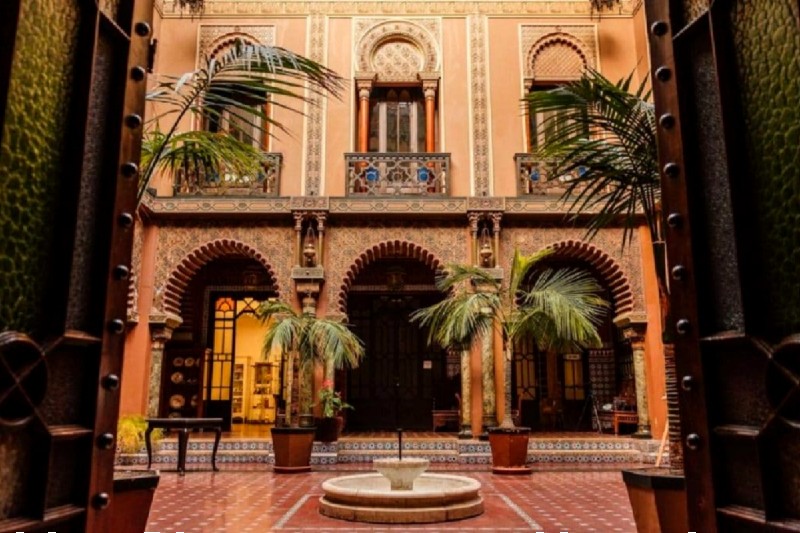 Visit The Gulbenkian Park & Museum
From the Mesopotamians to the Impressionists and from old coins to European painting, the Calouste Gulbenkian Museum in Lisbon covers an impressive range of periods and areas.
Its Modern Art Centre has a permanent exhibition focused on Portuguese modern art. For example, you can see works by the famous painters Almada Negreiros, Paula Rego and Vieira da Silva.
Worth the visit are also the Musem's gardens. With several distinct spaces, hidden benches and sinuous walkways, as opposed to open areas and straight lines, the gardens celebrate the Portuguese landscape, creating a variety of atmospheres dominated by the light and shadow, the lake, or the floral scents. If you have the time and want to get away from the tourist crowds this is a great place to visit and relax.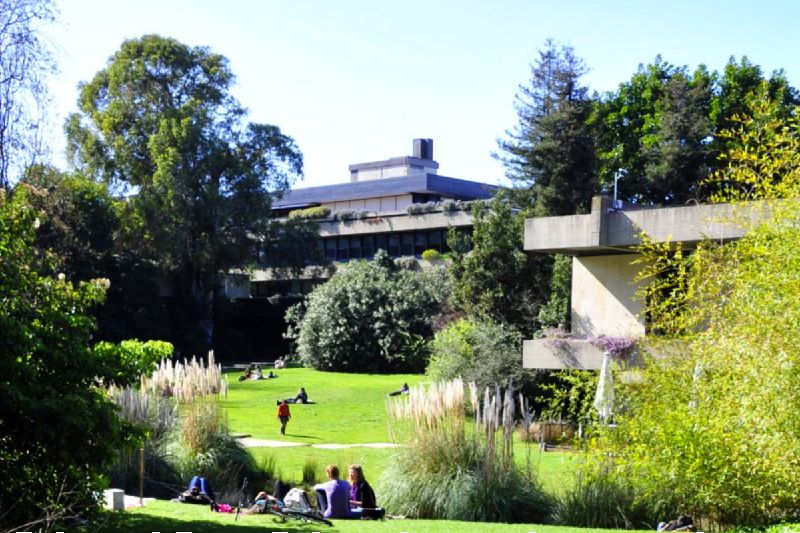 Visit Lisbon's Most Beautiful Palaces
Numerous royal palaces and noble mansions were built in Lisbon and its surroundings over the centuries.
Those who like to go back in time, or who appreciate architecture and local history, should look for these beautiful palaces when visiting Lisbon. Many of them are reminders of a time when Portugal had one of the world's richest royal families.
One of the most famous and impressive is Palácio Nacional da Ajuda, built for the royal family following the devastating 1755 earthquake that destroyed the city. In Lisbon you can also find other beautiful palaces such as the Palácio dos Marqueses de Fronteira, Palácio de Belém, and if you've rented a car you can also visit Palácio de Queluz, or even the iconic Palácio da Pena and Quinta da Regaleira in Sintra village.