Restaurants, Cafes & Gastronomy
We suspect that, besides the ever-mentioned charm, views, history and sun, Lisbon conquers many in a more natural way.. with food! The best restaurants and cafes in Lisbon are as varied as the city, offering us authentic trips of flavors. Portuguese cuisine is well represented in the capital, as are the cuisines of other countries. The dynamism of the Lisbon gastronomic scene shows no signs of slowing down. We have Michelin stars, traditional restaurants and environments to delight all the senses. There are waterfront terraces, superb views of the city, spaces that have a history as long as several generations and decades of the country's history. Thank goodness that Lisbon has so many hills and challenges us: it gives us one more reason to stop and indulge in these irresistible places!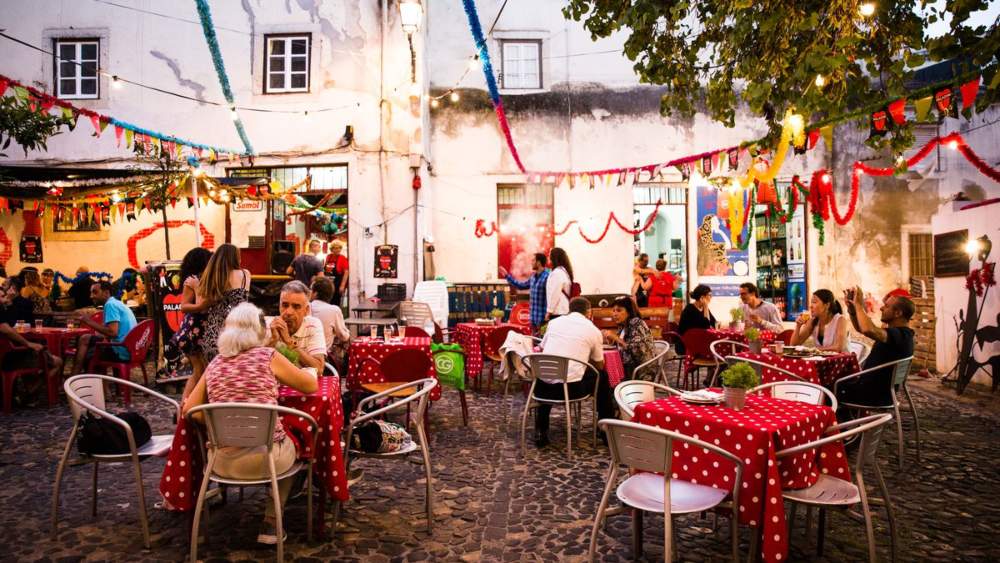 Famous Portuguese Dishes You Have to Try
Portugal has a varied gastronomy with typical dishes with numerous types of vegetables, meat and fish. Portuguese dishes deserve more recognition worldwide. After you've enjoyed the local dishes listed below, you'll no doubt join us in singing the praises for Portuguese gastronomy!
Bacalhau-Portuguese Cod Fish
No trip to Portugal would be complete without indulging in this Portuguese traditional food. Bacalhau or Portuguese codfish is a national obsession. In Portugal, there are over 365 ways of preparing bacalhau – one for each day of the year. Our favorite codfish preparation is the Bacalhau à brás. This is a codfish and egg scramble that is very popular. It is made with thin strips of codfish mixed together with potatoes, eggs, onions, garlic, and olives and topped with chopped parsley.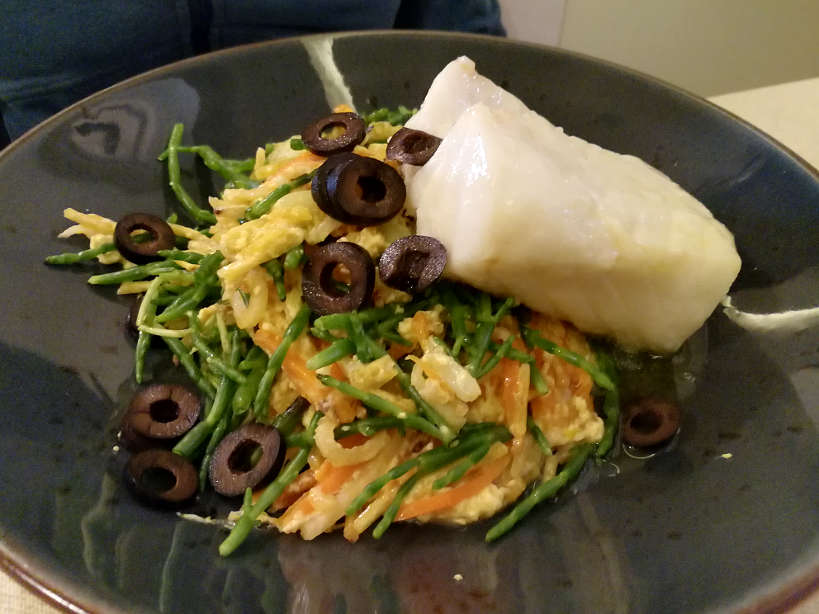 Sardinhas Assadas-Grilled Sardines
The most famous funicular in Lisbon. It connects the Downtown area with Bairro Alto. At the top of the Funicular, you'll enjoy a magnificent view over Lisbon from San Pedro de Alcántara viewpoint. The Elevador da Glória was opened to the public on 24 October 1885.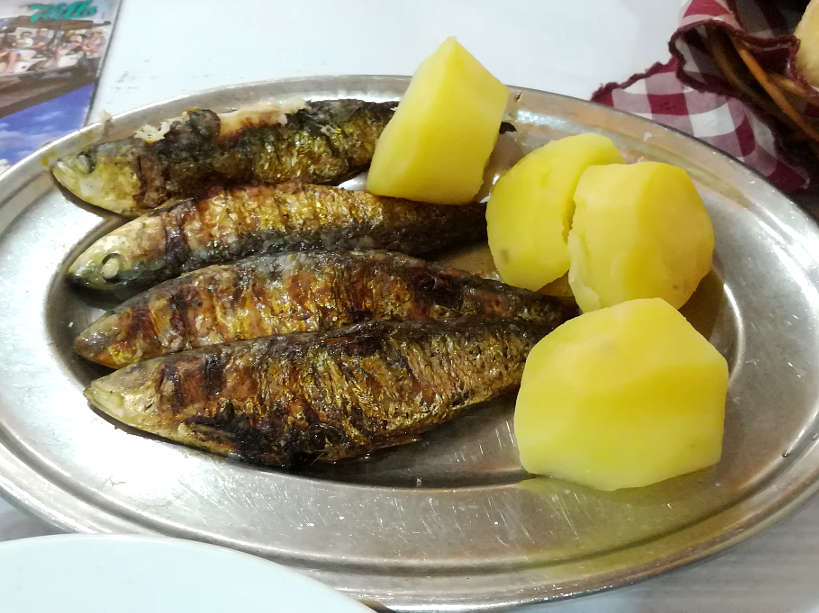 Carne de Porco à Alentejana
Carne de Porco à Alentejana is a traditional Portuguese Pork and Clams dish which originates in part from the Portuguese region of Alentejo. It is a true exemplification of Portuguese cuisine, simplicity, rich flavor, and unique combination of ingredients. This is seen with the combination of clams with pork, what at first might seem an unusual.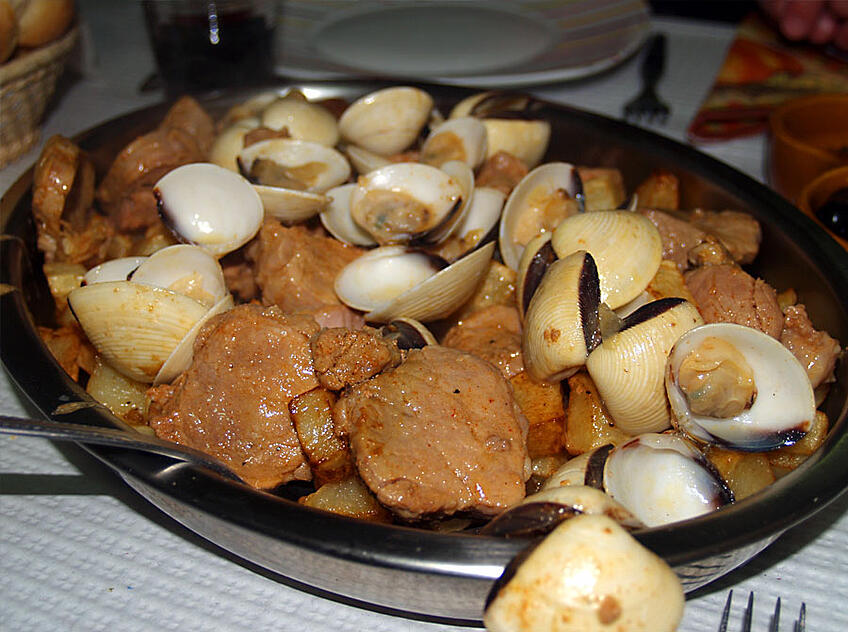 Polvo à la Lagareiro-Traditional Portuguese Octopus Dish
Portuguese cuisine is famous for its delicious seafood. Polvo à la lagareiro is a famous octopus dish that you will find across the country. Lagareiro is a popular way of cooking seafood which includes using generous amounts of Portuguese olive oil. In this traditional Portuguese food, the octopus is typically served with boiled potatoes. The potatoes and the octopus are baked and roasted.
Bifanas-The National Portuguese Sandwich
These are traditional portuguese meat sandwiches, marinated in oil, garlic and wine and eaten with mustard and piri piri hot sauce, so popular that you'll find them everywhere in the country! The bifana is pork and the prego steak.
Francesinha Sandwich-The Famous Portuguese Food from Porto
The Francesinha sandwich is an impressive plated sandwich that will make your "heart sing". Original from Porto, you will see it on almost every menu (If you don't get a chance to visit Porto you should try it in Lisbon). Made with bread, ham, sausages, and steak, the sandwich is typically covered with melted cheese and an egg on top. What makes the francesinha unique is the secret sauce that each restaurant prepares in its own special way.
Amoung other you also have "Cozido à Portuguesa": A popular Portuguese stew with various meats and vegetables, "Migas à Alentejana": A popular dish from Alentejo (one of the country's regions) with bread and marinated pork, "Feijoada": a winter stew made with haricot or pinto beans accompanied by pork, "Cataplana de Marisco": seafood stew cooked in a special pan. Caldo Verde-Green Broth: a renowned potato and kale soup, and several recipes made with squid.
Portuguese Restaurants for Large Groups in Lisbon
Portugal is one of the European countries most recognized for the quality and diversity of its gastronomy, as well as for welcoming everyone incomparably. As such, the Portuguese capital could not fail to be a real paradise when it comes to restaurants!
Over time, more and more restaurants have emerged in Lisbon, with varied gastronomic options, and some of them are suited to specific needs, such as group dinners. Whether it's a company dinner, a bachelor party, a Christmas dinner or even a birthday celebration, all occasions are good for gathering family and friends. For this reason, we give you some suggestions of restaurants with large rooms where you can hold your dinner in the capital.
Principe do Calhariz
Observation: Cheap, traditional and good for large groups (closed on Saturdays)
Address: Calçada do Combro 28
Tel: 21 342 0971
Price: 15€-20€ per person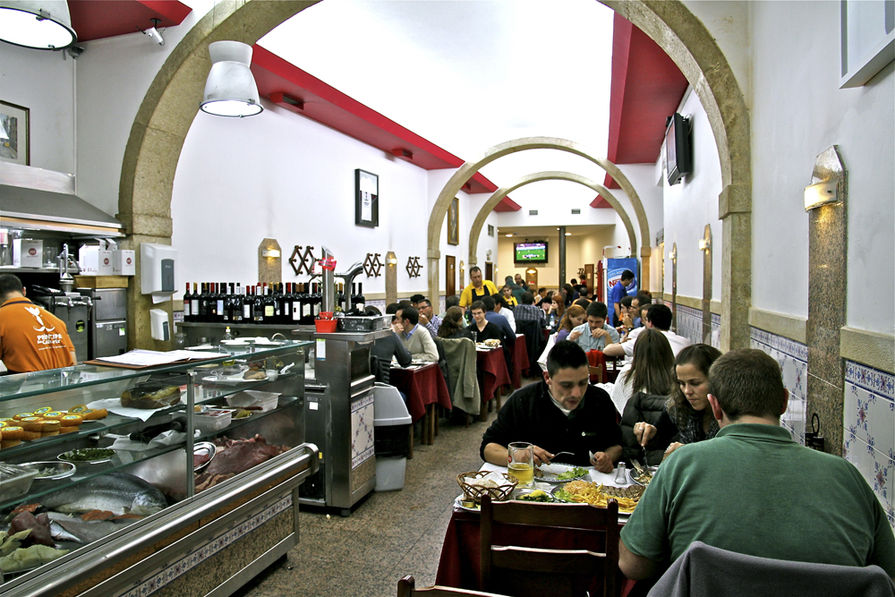 Adega do Dantas
Address: Rua Marechal Saldanha, 15, Bica, Lisboa
Observations: Good for large groups
Tel: +351 21 3420329
Price: 15€-20€ per person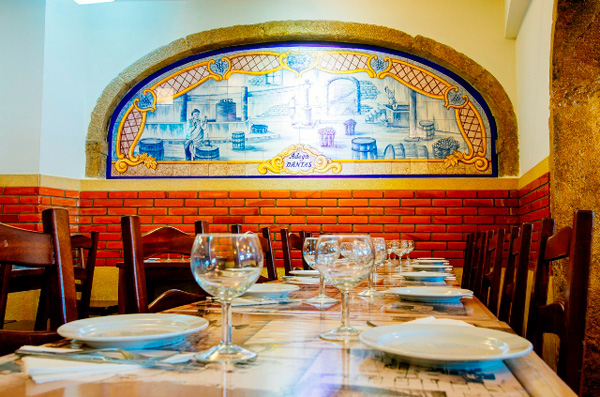 Chef at Home - The Real Portuguese Food Experience
• Do you want to taste the best of Portuguese food?
• Do you want to be surprised, in the comfort of your home, by someone who has the experience of a lifetime in the kitchen?
Let yourself be surprised in the comfort of your apartment with the best of Portuguese cuisine, cooked by someone with the experience of a lifetime of cooking.
Central Hill Apartments supports 55+, a local social organization that values people over 55 years old and motivates and encourages them to do what they like the most, giving them the opportunity to feel active and fulfilled.
This social organization works with real Portuguese cuisine experts. Enjoy a typical Portuguese meal (starter, main dish, wine, bread and dessert) without leaving the comfort of your apartment.
If you would like to book this service, please contact them directly using the following email: info@55mais.pt